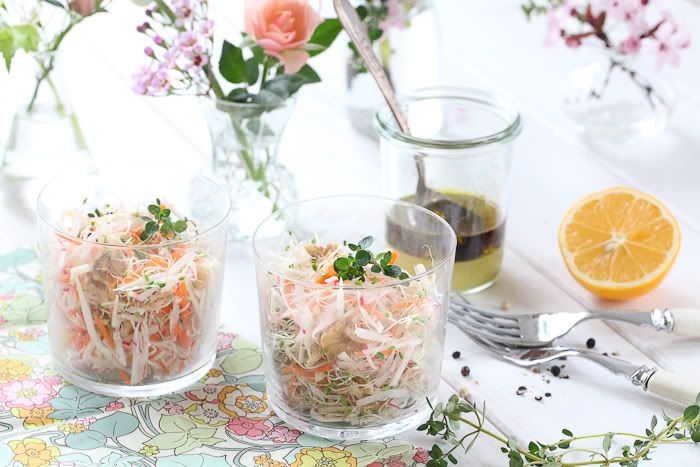 Sometimes food is a triple threat, when it looks pretty, tastes delicious, and is healthy for your body. This combination isn't rare, since fruit and vegetables are brightly colored and vibrant and obviously healthy – however, depending on your taste, they may not be delicious on their own.  AND, some of the most unhealthy foods are absolutely beautiful, like pink cupcakes and French macaroons.
But then there's sloppy-joes and chili -cheese fries, which may win in the taste category, but they don't have much to offer in terms of health benefits or aesthetics.  Anyways, this post on the wonderful food blog Golubka inspired me to think more about food styling and taking the time to make what I'm eating more beautiful.
I've learned presentation is everything, whether it's the way a present is wrapped or how a meal is plated at a elegant restaurant, presentation makes a difference!
I think I really believe food may taste better when it looks pretty. Call me crazy, but this discovery has made me mindful of what I'm eating. While not everything we eat will be a 'triple-threat' like this spring salad, you don't have to be eating in a restruant to have pretty food.
Taking the extra time when you're hungry and just preparing something for yourself can seem silly, but sometimes it is nice to sit down to a meal or snack that looks good/ pretty/ appetizing rather than a bowl of mush that tastes great.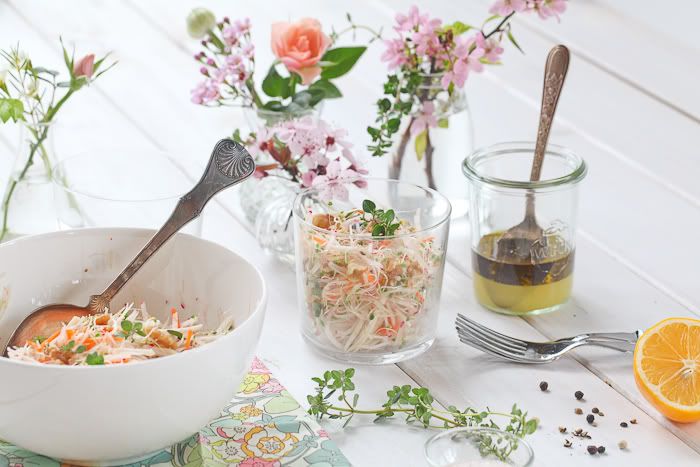 The Alkaline Sisters have this wonderful food blog with the most beautiful food styling and photography.  Lately, I've had to dabble in a little food photography for some school projects and it is so much harder than it seems!  I guess practice makes perfect so I've been one of those annoying people Instgraming everything I see and eat.  When eating alone, sometimes it's nice sharing such a pretty presentation like this before it's eaten.  Since they can't taste it as long as it looks good they'll assume it's gourmet.
Not to say that everything we eat will be pretty! I ate this (ick that sure looks gross!) the other day. But I just think eating alone and cooking for yourself can be just as lovely as eating in an elegant restaurant (Okay that's a lie, but we can at least try). Is it worth the extra time? Maybe not always, but give it a try sometime and you'll see what I mean!
{photos & recipe via Golubka}